Ford AU T5 gearbox conversion into 1986 740T Automatic
Tree

@Tree
VIC South East
See my following post updated below regarding tranny fluid and noise
As promised here is a swap GUIDE for AU T5 Tremec (Borg Warner) manual gearbox into a 1986 Volvo 740 Turbo Automatic. It is not a bolt on straightforward swap and there is some minor custom fabrication involved. But it can be challenging and a real learning experience for a willing car enthusiast!  
Please note this is not a step by step. Decent mechanical knowledge recommended.  
Background
The standard M46 transmission that comes in 740s are known to be weak sauce. Also 5th gear is overdrive. GTFO! Out of Toyota W58, Volvo M90 or Getrag M51 the most cheapest and most accessible option is the Borg Warner/Tremec T5. It is also the most common swap in the US and popular in general. Another bonus is that the T5 is stronger , easily rebuildable with stronger or different ratios. They are sourced from manual Falcons and Commodores.  
List of ingredients
Volvo parts
<ol>
<li>740 Manual pedal box. Don't forget the clutch pedal pin and r-clip!</li>
<li>M46 gearbox parts
<ul><li>Bellhousing. Require sleeve knocked out, reamed and bearing carrier machined for input shaft to fit. Alex did mine.</li>
<li>Clutch fork, pivot ball, stud, washer and nuts.</li></ul></li>
<li>240/740 8.5" Flat flywheel. These came from the early pre-1985 model cars. Later ones came with a stepped "dish" flywheel. I opted for the flat flywheel as it is lighter so the engine revs faster. Needs to be machined and extra threads tapped. Alex did this for me.</li>
<li>Volvo flat flywheel throw out/release bearing. Sachs 3151 190 031</li>
<li>740 Flywheel spigot/pilot bearing. Stock one is fine. Nachi P/N: 6003-2NSE9</li>
<li>740 Master and slave cylinder.
<ul><li>Slave cylinder C clip 32mm (double check). Thank god for Masters.</li></ul></li>
<li>Clutch hard line from manual 740 or fabricated. I got mine copied by a brake shop from an original.</li>
<li>Rubber hose for clutch master to reservoir.</li>
<li>Rear main seal. Good to do while it's accessible.</li>
<li>Most likely need new tail shaft bolts and nuts. $12 each for OEM. $1 at bolt shop. These are shanked and must be high tensile 8.8 or harder. I had to grind mine down to fit. Need 4.</li>
<li>Brake fluid for clutch</li>
</ol>  
T5 Tremec/Borg Warner parts
<ol>
<li>T5 from AU. The length of AU (23.8") lines up perfectly to 740 shifter location after installation of adapter plate which is 16mm. The M46 is (24.5") shifter to transmission face.
<ul>
<li>T5 damper sleeve (optional). Original plastic most likely shagged. Cube speed on eBay sells a metal one.</li>
<li>Might as well get a fleabay t5 rip shifter for better shift feels</li>
<li>Tailshaft oil seal (optional). My seal looked fine so I left it. Also looks like a PITA job.</li></ul></li>
<li>Input shaft. The original AU is too short after fitting adapter plate. 93 Mustang Cobra has a different helix angle to the AU and subsequently all gearboxes back to EB. I ended up getting my shaft lengthened by 17mm. Chicks dig it. See appendix for more info.
<ul>
<li>Input shaft retainer oil seal</li>
<li>Input shaft main bearing - may need to replace if damaged after being exposed to heat treatment when getting it cut and shut</li>
</ul></li></li>
<li>Ford Falcon XF Clutch kit. Exedy P/N FMK-6260. We will be using the pressure plate and disc. This is the largest disc that will fit the flat flywheel and should handle quite a bit of power. eBay has the best prices. Disc is 10 Spline same as AU input shaft.</li>
<li>Shifter stick and knob. Ripshifter already comes with stick.</li>
<li>Dexton III Auto oil. Just get the 4L</li>
</ol>
I sourced all my bearings and seals from Eastern Bearings, cheap and Travis is super helpful!
Metal "damper sleeve" cup to replace plastic one  
Fabricated/custom parts:
<ol>
<li>M46 to T5 Transmission adapter plate $220 depending on quantity. Alex ("veeque" @ ozvolvo) can supply this locally. Email: Disintegraterperformance@gmail.com</li>
<li>A gearbox mount will need to be made using a 740 automatic transmission cross member. Welding involved.</li>
<li>Modified tail shaft to fit new gearbox. It needs to be shortened, balanced and the front converted to T5 spec. cheaper if you supply the splined Ford T5 U-joint. About $200-250 at the local driveline shop. Measure twice cut once.</li>
<li>The M46 bellhousing needs to be machined suit adapter plate.</li>
<li>The section where the clutch fork and release bearing mounts on the T5 needs to be machined to accept the bellhousing. Bit vague here Alex did the work lol.</li>
</ol>
Adapter plate
Gearbox mount fabbed up
Drive shaft  
Process
It's been a while since it the swap was completed. Except for removing the original gearbox this can be done in a flexible order. It's probably the same as re-installing a manual except with a few extra steps thrown in. Two people are recommended when lifting gearbox.
<ol>
<li>Disconnect battery</li>
<li>Disconnect neutral wiring</li>
<li>Drain and remove auto gearbox. Plenty guides out there on how to. If you crimp the lines right it shouldn't leak too much.</li>
<li>Remove auto pedal box</li>
<li>Test fit input shaft with adapter and bellhousing. It should stick out roughly 1.5cm. As stated before I got my original AU one lengthened by 17mm after buying wrong input shaft twice. This seems to be the only way for now.</li>
<li>While input shaft is getting done or waiting on parts you may choose to change the damper sleeve bush cup and upgrade to Ripshifter while the gearbox is out. Check out this video for step by step.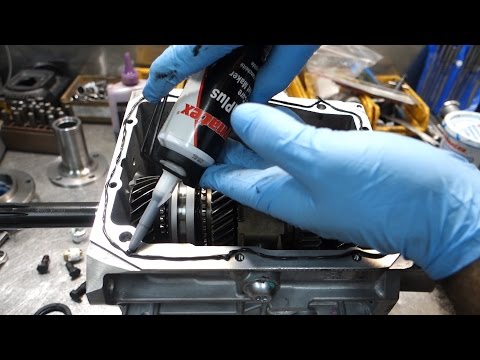 <li>Assemble M46 bellhousing, input shaft, adapter plate, pivot ball</li>
<li>Test fit the gearbox and measure length required to modify the tail shaft. Remove and send it off to get done.</li>
<li>Install new rear main seal, pilot bearing. The key to installing oil seals is to get a mechanic friend to do it.</li>
<li>Install flywheel and clutch. Tighten to torque specs</li>
<li>Install tail shaft.</li>
<li>Fabricate a mount between gearbox tail end and automatic cross member.</li>
<li>Install the gearbox and fill with Automatic Dextron III oil</li>
<li>Install master and slave cylinder and clutch lines</li>
<li>Install clutch fork and release bearing</li>
<li>Fill, flush and bleed the clutch system.</li>
<li>Re-connect neutral wiring and install shift knob</li>
<li>Double check everything is done</li>
<li>Go for your well rewarded test drive.</li>
<li>WIN!</li>
</ol>
Cost all up around $1900. can be done for maybe a bit cheaper if omit the ripshifter or started with manual car etc.
Epilogue
Initial impressions. I like it. No, I love it! Mostly because I love driving manual. I like to shift fast and sometimes it doesn't get into 3rd as smooth as I'd like. This is with the metal bush installed but not Ripshifter. Ripshifter should improve the experience. Not too different compared to the M46 to be honest. The gear ratios are taller than M46. Good for cruising but maybe not for 0-100. Solution: MOAR BOOST. Will update in a few months.  
Thanks to everyone who contributed on the T5 thread: found here
T5 gearbox conversion
<ul>
<li>Alex (
@Vee_Que)
- helped me swap my tranny and supplied a few crucial ingredients</li>
<li>Jay (
@blondejay)&lt
;/li>
<li>Nicko (
@nickm)&lt
;/li>
<li>Bob</li>
<li>Anthony Hyde</li>
<li>Rick122</li>
</ul>
Helpful links when opening the transmission
<ul>
<li>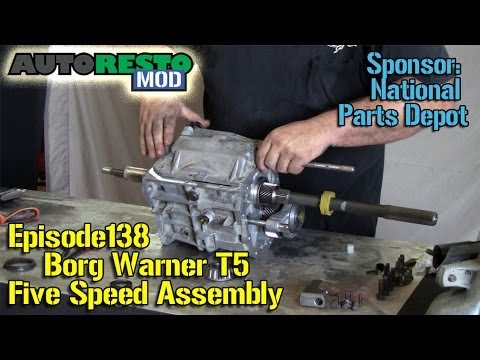 <li>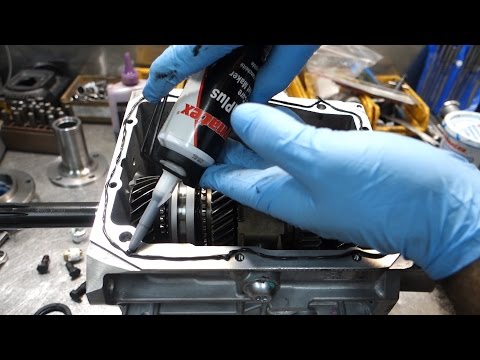 <li>
https://www.google.com.au/search?q=t5+shift+fork+assembly</li&gt
;
<li>
http://people.physics.anu.edu.au/~amh110/Clutch/clutch_upgrade.htm</li&gt
;
</ul>
Appendix A: Input shaft
Left to right: BA, AU, 93 Mustang Cobra, BA V8
AU Input shaft before
AU Input shaft after being lengthened
The issue I faced was that the AU input shaft was too short after the adapter plate was installed. We tried the 93 Mustang which had the right length but that uses a standard square cut bearing. Next we tried the 93 Mustang Cobra and which had the right height as well but the gear helix angle was off by 4 degrees.
See the difference?
In the end I decided to get the input shaft cut, lengthened, hardened, and shut by
Gear Repair
in Sydney. Took them 2-5 business days. $190 plus shipping, very reasonable!
Modified AU - 237.5mm length
Input shaft specs:
<ul>
<li>AU T5</li>
<li>10 Spline</li>
<li>220mm length</li>
<li>147mm shaft installed with retainer</li>
<li>167mm transmission face to shaft end</li>
</ul>
'93 Mustang Cobra input shaft specs:
<ul>
<li>10 Spline</li>
<li>9.25" 235mm</li>
<li>14.5mm longer than AU</li>
</ul>
AU and Cobra with same "tapered" bearing style
Cobra vs Standard 93 Mustang with weaker roller? bearings
Appendix B: Gearbox choices
The AU is the only T5 to date that lines up almost perfectly to the 740 original shifter location. The BA is 24.5" from the transmission shifter to face and will be further back after installing the shifter plate. I barely managed to install ripshifter with my AU IN CAR so I assume BA might be easier as there's two bolts that are hard to reach. BA also uses a larger clutch than the Volvo flat flywheel and is 27 spline. The VS Commodore box used in Jay's car is too short at 21.5" and he had to grind a bit of the transmission tunnel for it to fit.
Another thing to note is that the Ford T5s use a tapered bearing which is supposedly stronger because it can handle more torque.
AU T5 no gearstick
Jay's VS T5 with ripshifter.
Alex's comments:
If you are to use a stock flat flywheel, you get another type of disc to go with the volvo pressure plate, and if you go with a dished flywheel, the disc size is 230mm not 235mm and due to its design loses pressure as the clutch wears, increasing wear and slip when driving. Yoshifab sell a disc but its also available from exedy as a disc only. Unsure on the part number. And I do the redrilling and balancing. No one else seems to in Australia, to suit us.
Second, you can't physically fit a 4L BA pressure plate and clutch, as they are 245mm and that's the total size of the flywheel! The bellhousing for a BA is integrated, so you can't use the bearing carrier and machine it down. But you could buy an XF pressure plate and the fine spline clutch to suit something else I guess.